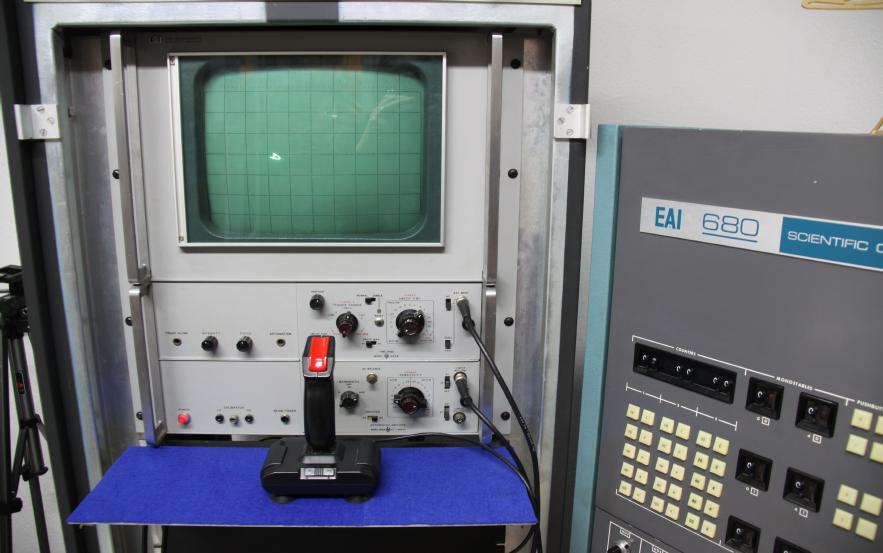 Now (May 2014) that my EAI 680 is more or less working, I couldn't wait to setup a somewhat more complex simulation. As I am an avid reader of NASA reports from the Mercury, Gemini, and Apollo era, the idea of implementing a simple two-dimensional simulation of a spacecraft came to my mind. The picture above shows the the setup of the finished program. The spacecraft is displayed on a large screen oscilloscope. In front of this display a simple Quickshot II joystick is mounted which is used to control the thrusters of the spaceship.
The simulated spaceship has two sets of thrusters which can be controlled by the joystick: Two thrusters are located on the front and back of the spacecraft and allow positive/negative thrust along its longitudinal axis. The second set of thrusters is mounted in a way that the spaceship can be rotated.
As there is no friction, the rotational and translational movements of the spaceship do not slow down (which feels extremely awkward for someone like me who is not used to play computer games :-) ). The thrusters have only two states: Quiescent and operating. They are not throttleable.
The circuit is not too complicated but requires a lot of multipliers to implement the rotation matrix as will be shown in the following detailed circuit description.
First of all, the shape of a spacecraft has to be generated for the display. The typical approach is to generate a sine/cosine-signal pair and distort one component by means of a diode function generator in a suitable way to generate the overall appearance of a spaceship. Generating such a sine/cosine-signal pair is simple and is based on the following differential equation: